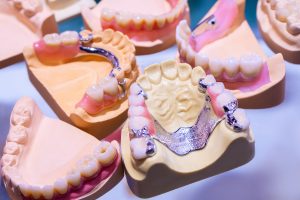 The gaps left behind by tooth loss can create a smile that causes you to feel self conscious. They can also create some long-term health concerns for your remaining teeth and gums. If you have suffered tooth loss on an individual basis, or you're now missing many of the teeth in your mouth, you should explore your options for prosthetic replacements. Replacing your missing teeth can not only boost your confidence, but it can also prevent future oral health issues that would require further treatment to remedy. Here are some of your prosthetic tooth replacement options.
Partial and Complete Dentures Repair Extensive Tooth Loss
For substantial cases of tooth loss, dentures are often the most efficient route to rebuilding your smile. Dentures can be used to replace all of the teeth on a dental ridge, and partial dentures can be used to replace pockets of missing teeth. Dentures are typically held in place with an adhesive, which means that they can be used functionally, but you won't have the same bite power as you would with natural teeth. Partial dentures can fit around your remaining teeth, so you can leave these healthy teeth in place as you replace the missing ones.
Dental Bridges Bridge Gaps in Your Smile
The term dental bridge refers to the effect that this prosthetic has on your smile. Missing teeth leave gaps in your smile, and a dental bridge can literally bridge that gap. Dental bridges are composed of a series of prosthetic teeth that are bonded on both ends to dental crowns. Those dental crowns then fit over the healthy remaining teeth on either side of the missing teeth. That means that a dental bridge can replace a single missing tooth, or a series of missing teeth. If your tooth loss is extensive however, you may want to opt for dentures.
Dental Implants Are Another Prosthetic Option
Dental implants don't work for every patient, because they are a more expensive option, and you need to have a healthy jawbone to be able to receive them. If you are a candidate for dental implants though, they make for an excellent prosthetic option. Dental implants are surgically implanted into your jawbone, so they give you the best bite power possible of the prosthetic options. Dental implants are placed on an individual basis, but they can be used to stabilize and strengthen another prosthetic like dentures.
Find Your Ideal Prosthetic Option at Cedar Dental
Cedar Dental provides excellent dental care in a comfortable environment. An experience like tooth loss can be traumatic, but our staff will help put you at ease as you decide what to do next. Choose from options like dentures, bridges, and implants to repair your smile. Set up a consultation at Cedar Dental in Cedar Rapids, IA by calling our office at 319-364-7108.