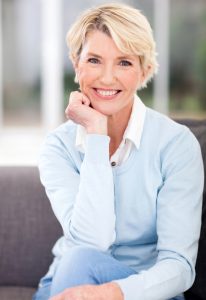 THE DIFFERENCE BETWEEN DENTURES & PARTIALS
When many people hear "dentures," they may automatically envision an entire row of replacement teeth, supported by a plastic, gum-colored base. More specifically known as complete dentures, they are custom-designed to rebuild the smiles of patients who have suffered total or near-total tooth loss (edentulism) on one or both of their dental ridges.
If you have lost many, but not all, of the teeth on your dental ridge, then a partial denture, or partial, may be a more appropriate solution. Partial dentures may also span your entire ridge, but only contain pontics (replacement teeth) where necessary, between the natural teeth that remain. For optimal results, partial and complete dentures are often crafted from lifelike dental porcelain, which closely resembles the color, shade, and light-reflecting properties of your healthy tooth structure.
Implant-Supported Dentures
For a more comprehensive solution to traditional dentures, Dr. Peter Ruggiero often suggest supporting dentures and partial with a series of dental implants. The implanted posts act as prosthetic teeth roots, providing a sturdy anchor for your replacement teeth and a source of stimulation for your jawbone.
Address Severe Tooth Loss with a Full or Partial Denture
We can effectively and conservatively address your severe or total tooth loss with a full or partial denture, depending on your specific needs. To find out which option is right for you, call Cedar Dental in Cedar Rapids, IA, today at (319) 364-7108. We also welcome patients who live in Mount Vernon, Iowa City, Hiawatha, and all nearby communities.