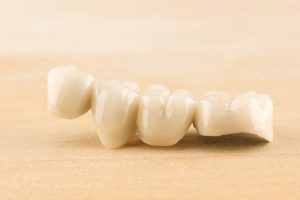 It goes without saying that sometimes you may tend to fall short on your preventive care routine. Whether you forget to floss after a meal or head to bed without brushing your teeth, what seem like minor mishaps can eventually grow and compile into potentially major problems. Some of these include infection, tooth decay, and even loss. In today's blog, your Cedar Rapids, IA dentist will take a look at losing multiple adjacent teeth and how our office can help by setting you up with a custom-made dental bridge to once again complete your smile.
Adjacent Missing Teeth
Harmful oral bacteria are often the cause of a number of major dental concerns. From infection to decay and even tooth loss, they are not a concern that should be taken lightly. Unfortunately, many individuals do not act with efficiency or immediacy when it comes to managing their oral health which often allow these microorganisms to thrive and wreak more havoc than they should. As a direct result, bacteria will begin to cause decay to occur, and if it is not handled in a prompt manner, will spread and infect more teeth, ultimately resulting in loss or extraction. What's more, the problem does not stop there, however, as the infection will remain and continue to target your health. In fact, the chances of losing adjacent teeth after losing one tooth increases dramatically. For more information, contact our team today.
The Impact on Your Bite
In addition to the cosmetic damage decay has on your smile, you will begin to experience structural and functional concerns as well. You see, each tooth is secured to the jaw via its root, and this secure connection allows your crowns to absorb the pressure of your bite. With multiple adjacent structures missing, your bite will readjust to accommodate the gap, causing strain and tension. From here, you will also experience difficulties with biting, chewing, and even enunciation. In order to combat these concerns, however, our team is here to help with the use of a dental bridge restoration.
Improving Your Smile
When you seek restorative dentistry, the goal is to do just that – restore your function so that your grin can perform as needed. A dental bridge consists of two or more artificial teeth created to not only mimic the natural textures and appearance of your smile, but to help restore your bite as well. They can be placed and secured either by dental cement or by implant dentistry, and offer a lifelike solution to completing your smile. For more information, contact our team today.
Schedule Your Appointment
Contact Cedar Dental in Cedar Rapids, IA by calling 319-364-7108 to find out more about the benefits of restorative bridges, or to schedule your appointment with our team today.