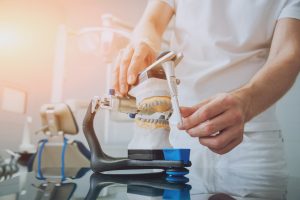 Often function and esthetic are presented as competing forces. If you choose function, you're compromising on some piece of appearance. If you go all style, you end up with no substance. However, that's not always the case. At times, function and esthetic go hand-in-hand. The quality of the appearance can actually benefit the function and vice-versa. That's the thought process behind dental crowns. Crowns are considered a restorative treatment — used to recover from and protect against serious damage to the tooth. However, you also want your dental crown to look like the original tooth.
When a Dental Crown Looks and Feels Like a Natural Tooth, it Fits
First and foremost, you want your dental crown to protect a vulnerable tooth. Your crown may cover a tooth that needed a root canal, or a tooth with severe cavity damage. Your crown should restore the structural integrity of your tooth and prevent more damage from happening. It should also fit comfortably alongside your other teeth. Your teeth fit together in a synchronous arrangement that keeps your bite from wearing them down. If your dental crown didn't look the part, it might ruin the harmony that your natural teeth have.
You Also Want to Feel Confident After a Dental Restoration
You also deserve to feel good about your dental restoration! Just because your tooth has suffered some damage, doesn't mean you should have to feel ashamed of it or try to hide it. When your crown looks like a natural tooth, you can comfortably share your smile with the world. That means feeling more comfortable in social situations, and getting back to normal after tooth decay.
Cedar Dental Will Create a Dental Crown that Provides Functionality and Esthetic
Cedar Dental wants you to recover both physically and emotionally after your teeth suffer damage. The team at Cedar will ensure that your dental crown is fabricated with supreme care — using precise measurements of your damaged and surrounding teeth to ensure a good fit that lasts. To make an appointment for an evaluation or treatment, contact Cedar Dental in Cedar Rapids, IA at 319-364-7108.