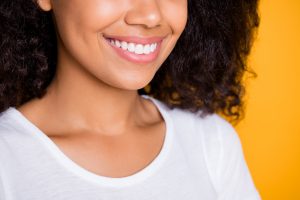 Oral function and overall health are the most important things to consider when it comes to your smile. After all, a compromised or infected tooth will impact your strength and appearance as well. Indeed, preventive dentistry is necessary for maintaining your smile for life, and only when you have a grasp on your routine can you enjoy the benefits of a healthy grin. In today's blog, your Cedar Rapids, IA dentist will take a look at circumstances that may not harm your health but can result in noticeable blemishes that impact your self-confidence, and how porcelain veneers may be the solution.
Natural Deterioration
As time goes by, your smile and everyone else's endures a number of circumstances that result in gradual degradation. For instance, that morning cup of coffee you need to begin your day contains pigments that stain your teeth and dull their shine. What's more, physical accidents, mishaps, or injuries cannot simply be avoided as they can occur at any given time to anyone. Other factors that influence your smile's durability include how frequently you consume sugars that cause decay, the quality of your preventive dental routine, consumption of alcohol, use of tobacco, and more.
Because all of these factors and many more impact the strength and health of your grin, it is only natural that stains, chips, cracks, and more may develop over time. While some accidents result in emergencies that impact your function, others may simply just be surface-level inconsistencies. For more information about the causes of dental damage, reach out to our team today.
Weakened Teeth
As your teeth weaken, they become more susceptible to cracking, chipping, and breaking. While these issues may not impact your health per se, they can influence one's self-confidence. After all, many individuals associate a beautiful appearance with heightened levels of self-confidence, and as much as a single chip can completely derail this notion. To best address concerns such as these, your dentist may recommend the assistance of cosmetic dentistry.
A Solution for Multiple Concerns
Cosmetic dentistry involves enhancing the appearance of one's smile through surface-level treatment. There are a variety of options that can assist you depending on your needs. For instance, whitening helps brighten your smile's shade while bonding and contouring may assist chips and cracks, but what can be done about a variety of different blemishes? That is where porcelain veneers come in to help.
Consisting of ultra-thin shells of dental porcelain, veneers are designed to be placed and bonded to the front of the teeth. They can address a variety of concerns including chips, cracks, stains, and even gaps between teeth.
Learn More Today
Cosmetic dentistry can help enhance your grin's appearance and we are ready to help. Contact Cedar Dental in Cedar Rapids, IA by calling 319-364-7108 to learn more or schedule your visit with our team today.