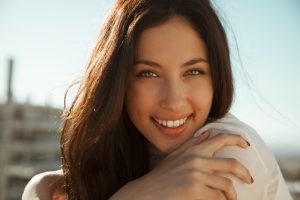 WHEN PORCELAIN VENEERS ARE THE BEST OPTION
When you have more than one cosmetic dental concern, porcelain veneers can make your smile makeover less complex than you might have anticipated. Veneers are thin, custom-crafted shells of dental porcelain that are specifically made to match the contour, color, shade, shape, and size of your healthy, natural teeth. Unlike dental crowns, however, veneers are only bonded to the front surfaces of your teeth, and therefore require less tooth preparation than porcelain crowns. In some cases, we may also recommend no-prep veneers, which can be placed without having to sculpt the tooth's enamel first.
Questions About Porcelain Veneers
How many teeth can veneers fix?
Porcelain veneers are crafted as single restorations, each shell created for a specific tooth. Their versatility makes them appropriate solutions for a single blemished tooth, or for multiple teeth that exhibit different kinds of cosmetic issues.
If I only have one affected tooth, is a dental crown a better idea?
Porcelain dental crowns are created from the same lifelike ceramic as porcelain veneers, but are made to fit entirely over the top portion of your tooth. To place the crown, your dentist will have to sculpt more of the tooth structure to accommodate the restoration. If your tooth does not specifically require a crown, then a porcelain veneer can improve the tooth's appearance while preserving more of your tooth's structure.
Will my porcelain veneers stain over time?
Unlike natural tooth structures, dental porcelain does not stain. It also does not respond to teeth whitening treatment. Before placing veneers, Dr. Peter Ruggiero may suggest undergoing a teeth whitening treatment first, then designing the veneers to match your newly brightened smile.
Find Out if Veneers Are Your Best Option
If you have several teeth to improve, then custom-made porcelain veneers may be your best option for addressing them all. To learn more, schedule a visit by calling Cedar Dental in Cedar Rapids, IA, today at (319) 364-7108. We also welcome patients who live in Mount Vernon, Iowa City, Hiawatha, and all nearby communities.