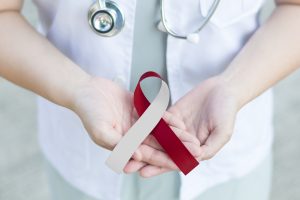 It is no surprise at this point that preventive dentistry is the name of the game when it comes to ensuring the health of your smile for life. Indeed, taking care of your grin is a lifelong practice that is heavily involved, and falling short on any step can become potentially detrimental for its health and strength. In some cases, however, threats may not be avoidable in their entirety, but there are steps you can take to reduce risk. In today's blog, your Cedar Rapids, IA dentist discusses the importance of checking for oral cancer when you come in for your visit, as well as what steps you can take to reduce your risks.
It Can Affect Everyone
Contrary to popular belief, nobody is truly safe from the effects of oral cancer. This phenomenon occurs when cells inside oral tissues mutate, causing abnormalities and other concerns. What's more, it refers to cancer that develops in any area of the oral cavity, including the lips, cheeks, tongue, gums, back of the throat, roof of the mouth, and floor of the mouth.
Like we mentioned earlier, it can affect anyone and is not limited to those who use tobacco products. Indeed, whether you are a small child or an elderly adult and any age in-between, this mutation in cells can be a threat. There are, however, certain circumstances that exacerbate the situation or increase your chances of developing it, including use of tobacco products, excessive drinking, excessive sun exposure to the lips, and even from transmission of human papillomavirus (HPV). For more information about this process, reach out to our team today.
Signs and Symptoms
Because cancer involves a mutation of tissue cells, there are often common signs that are indicative of a problem. These signs and symptoms can include noticeable red or white rough patches within the mouth, sores that will not heal, abnormalities such as lumps or growths, mouth pain, ear pain, and difficulty with swallowing or painful swallowing. If you suspect that you may be experiencing one or more of these symptoms, please do not hesitate to contact our team today.
How Our Team Helps
While there is no proven way to prevent the concern in its entirety, there are a number of precautions you can take to reduce your risks of development. For instance, our team offers an oral cancer screening when you attend your routine checkup and cleaning in which we carefully investigate for signs of abnormalities, rough spots, and more. What's more, taking the strides to stop tobacco usage, reduce alcohol consumption, and avoid excessive sun can help as well.
Learn More Today
For more information about the dangers that arise from oral cancer, contact Cedar Dental in Cedar Rapids, IA by calling 319-364-7108 to schedule your appointment today.