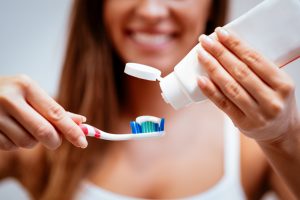 Oral health is far from straight-forward, as there seems to be a never-ending list of concerns that can threaten it. Some of these may include dental decay or infection, while others consist of bruxism and TMJ disorder. Indeed, this list means that constant care and consideration must be given to how we treat our grins. In today's blog, your Cedar Rapids, IA dentist wants to take a look at the importance of preventive dentistry and how staying on top of an effective routine can pave the way for a lifelong smile.
Why It Matters
While restorative dentistry allows trained professionals to help preserve your natural teeth through procedures that can help restore function, the most effective way to ensure a lifelong grin is by working hard to prevent it from getting to the point that restorative dentistry is needed. In other words, preventive dentistry is the name of the game for healthy smiles.
Your dentist recommends practicing preventive care at home to ensure that harmful bacteria are kept at bay. In fact, dentist recommends attending a routine checkup and cleaning at least once every six months so as to not only monitor health, but to prevent any minor concerns from developing into major ones. During this process, our team will thoroughly check for any signs of abnormality or threat to your health. We will also provide a cleaning to remove deposits of bacteria-laden plaque. For more information about this process or to schedule your appointment with our office, contact our team today.
Brushing Correctly
In addition to attending your checkups, you can take steps at home to protect your teeth. This involves brushing correctly. Believe it or not, there is a method to brushing that proves most effective. This method involves moving your brush in small circles as opposed to side-to-side. By taking the time to ensure you are practicing these habits effectively, you are able to provide a greater level of protection to your smile.
Taking Care to Floss
Preventive dentistry consists of much more than just brushing your teeth. It involves a steady combination of brushing, attending checkups, paying mind to what you eat, and flossing. You see, food particles tend to become lodged between structures while you eat. Here, bacteria gather to feed off of these particles and causing damage to your smile. By taking care to floss after every meal, you are able to reduce your chances of developing a serious gum infection drastically, thus preserving the health of your structures and your smile.
Learn More Today
Contact Cedar Dental in Cedar Rapids, IA by calling 319-364-7108 to learn more about the many benefits of sticking to a structured routine, or to schedule your next appointment with our team today.