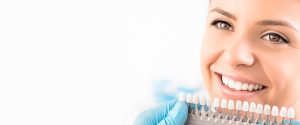 Taking care of your smile is a lifelong process, and one that certainly involves more steps and effort than many patients are willing to provide at times. Indeed, effective oral protection consists of brushing your teeth, closing, attending checkups, and paying mind to the ways foods and beverages interact with your smile. Still, however, sometimes a person's biggest concern is not their health, but a surface-level crack or chip that hinders their appearance. In today's blog, your Cedar Rapids, IA dentist discusses the many benefits of cosmetic dentistry, and how porcelain veneers offer significant improvements.
Understanding Cosmetic Concerns
Dentistry in and of itself is a complex topic. After all, it involves much more than just a cavity hunt at a checkup or brushing your teeth when you wake up in the morning. Indeed, dentistry includes all aspects involving the maintenance of your smile. This includes providing necessary protection and prevention, restoring structures that may have become infected or harmed, and enhancing your appearance through eliminating surface-level discrepancies.
While your oral health is of the utmost importance to consider, that does not mean that issues such as cosmetic blemishes should be ignored in their entirety. Indeed, this is where cosmetic dentistry comes in to help, and our team is ready to assist you in determining the best solution for your grin.
Cosmetic dentistry involves cosmetic treatment to address surface-level issues such as cracks, chips, gaps, and difficult stains. What's more? Your treatment will be customized to fit your needs and provide a lifelike finish. To learn more about this process and the major benefits of cosmetic dentistry, reach out to our team today.
Versatility at its Finest
When it comes to addressing a myriad of surface-level concerns, there is no treatment as versatile as porcelain veneers. Dental veneers consist of ultra-thin shells of dental porcelain that are hand-crafted and secured to the front of your teeth permanently with dental cement. What's more? The procedure is relatively conservative in nature, as it only requires a minimal amount of enamel sculpting to place them. Whether you are aiming to mend a crack or chip, cover a noticeable stain, or simply address the gaps in-between your natural structures, veneers can help. Contact our team today to learn more.
Enjoying a Lifelike Grin
Arguably one of the biggest benefits of porcelain veneers is their ability to address blemishes in a discreet and lifelike way. You see, our team utilizes dental porcelain for its uncanny resemblance to natural structures. What's more? They can even be shade-matched to the hue of your grin to provide a seamless finish.
Schedule Your Appointment
Contact Cedar Dental in Cedar Rapids, IA by calling 319-364-7108 to learn more about the benefits of cosmetic porcelain veneers, and schedule your next visit with our team today.