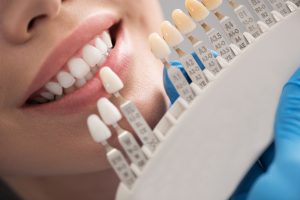 Your teeth are hard and durable, but they're not impervious to damage. The activity of bacteria and physical accidents can damage your teeth. When your teeth become damaged, they may not have the same structural integrity that allows you to chew comfortably. For those teeth, protection is required. Dental crowns are a restorative option that provides essential protection for damaged teeth. Dental crowns are versatile, and they can be used to partially cover a tooth, or completely cover it. Dental crowns are even used as part of dental implants.
Dental Crowns Are Made from Ceramics to Match the Look of Natural Teeth
Dental crowns are not natural teeth, but they can be fabricated to match the appearance of a natural tooth. Dental crowns made from dental ceramics can be treated to match the color and shade of your surrounding teeth, so it won't stand out after placement. This material also replicates the shine of natural teeth, so it will look lifelike in your mouth. Your dentist will first fit you with a temporary crown while they fabricate a permanent crown that is made to exact specifications from your mouth.
Dental Crowns Can Fit Over Damaged Teeth and Protect Them
Dental crowns are made to cover and protect your existing teeth, while providing a beautiful, natural esthetic. When your natural tooth becomes damaged, your dentist will sculpt it down to create a base for the crown. This process utilizes the existing root structure of your natural tooth, which is what makes that tooth so strong to begin with. After sculpting the base of the tooth, your dentist will fit a dental crown over this base. The crown will look and feel just like a natural tooth, giving you a functional and esthetic boost.
Dental Crowns Protect Teeth for the Future
A tooth that has been structurally compromised doesn't provide the same function or esthetic. Restorative dental treatments like dental crowns protect damaged teeth for the future. If your tooth has become chipped, a dental crown can repair the structure. If your tooth has suffered from serious cavities or root canal infection, a dental crown can cover the vulnerable tooth so that bacteria don't reenter the area and cause more damage. Dental crowns protect your teeth for the future.
Essential Restorative Treatment at Cedar Dental
Cedar Dental adheres to the ADA and CDC cleaning guidelines at all times, and all standard sterilization measures are followed. However, we have increased our daily cleaning and disinfecting measures to include frequently-touched surfaces, such as countertops, door handles, bathroom surfaces, and more. We encourage our staff to use hand sanitizer and wash their hands thoroughly at least once an hour. We encourage our patients to do the same. To get in contact with Cedar Dental in Cedar Rapids, IA, call our office at 319-364-7108.