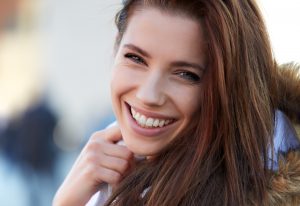 Cosmetic dentistry's purpose is to help everyone take pride in the health and appearance of their smiles. With a wealth of personalized treatment options, even severe tooth blemishes can be corrected. However, if your smile concerns involve your gums and not your teeth, then you might not be sure how cosmetic dentistry can help. With artistic gum contouring, we can help patients with uneven gum tissues, or gums that cover too much tooth structure—conditions that are often known as a gummy smile.
The Benefits of Cosmetic Gum Contouring
Depending on how uneven your gum tissues are, a gummy smile can have a significant impact on your smile's appearance, and therefore, your overall confidence. Gum contouring can improve both comfortably and effectively so that your smile's natural beauty can shine through.
Gum contouring can also serve as the finishing touch to a more complete smile makeover. Cosmetic issues like worn, cracked, or misaligned teeth may impact the appearance of the gum tissues around them. After improving your teeth with tooth bonding or porcelain veneers, gum contouring can ensure that the frame around your smile perfectly complements your newly improved teeth.
In addition to making your gums look better, gum contouring can also improve their overall health. For instance, gingivitis (the first stage of gum disease) develops when oral bacteria gather underneath your gum tissues. When your gums are uneven, keeping them clean with your toothbrush and floss can be more challenging, giving oral bacteria a better chance at working their way underneath them. Gum contouring creates a more symmetrical gum line that's easier to keep clean and less likely to harbor harmful oral bacteria.
Fix Your Smile with Gum Contouring
Your teeth may be completely free of cosmetic blemishes, but if your gums are uneven, then they can negatively impact the appearance of your whole smile. To find out how cosmetic gum contouring can help, schedule a consultation by calling Cedar Dental in Cedar Rapids, IA, today at (319) 364-7108. We also welcome patients from Mount Vernon, Iowa City, Hiawatha, and all nearby communities.