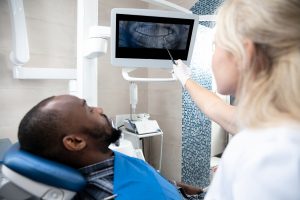 Nothing is worse than taking seemingly great care of your oral health and then enduring some form of infection such as decay or gingivitis. After all, you have done your part to brush, right? The problem arises, however, when a preventive dental routine is not as well-rounded as one might hope. In fact, sub-par care can cause complications to arise, in addition to missing your routine six-month checkup. In today's blog, your Cedar Rapids, IA dentist discusses the importance of attending these routine appointments and how failing to do so can lead to a variety of major concerns down the line.
A Necessary Part of Prevention
While cosmetic dentistry addresses surface-level concerns and restorative dentistry helps remove infection and preserve natural teeth, preventive dentistry is the main form of care that is responsible for the health of your smile. In fact, implementing a well-rounded preventive routine can work wonders when it comes to maintaining a healthy smile for life.
When we say well-rounded, we mean just that: a routine that is designed to protect your oral structures on multiple fronts. This often consists of proper brushing and flossing at home, paying mind to the negative effects of foods and beverages that you consume, and attending an in-office dental visit at least once every six months.
Indeed, it is important to keep in mind that just because you are doing your part to brush and floss at home, that does not mean that these actions are a substitute for professional care. As a matter of fact, your dentist recommends coming in for a routine visit at least once every six months in order to properly monitor your grin and ensure minor concerns do not develop into major ones.
Identifying Potential Concerns
An important role that your dental checkup plays involve identifying potential concerns and monitoring their development and treatment. When you come in for your visit, we will take care to provide a thorough examination of your teeth, gums, tongue, throat, and everything else that comprises your oral health. If we identify anything that may be of concern, we will inform you of your treatment options and how to move forward. For more information about this process, reach out to our team today.
Removing Harmful Deposits
Another crucial aspect that is involved in your checkup is your cleaning. Bacteria-laden plaque tends to develop as the day goes on, and while you may be doing an excellent job at removing most of it, some of it develops in-between teeth and near the gum line. This can be difficult to remove on one's own without professional care, and if it remains for a period of time, it may develop into tartar which is even more complicated to remove.
Learn More Today
Don't let your health suffer by forgetting a vital step in your preventive routine. Contact Cedar Dental in Cedar Rapids, IA by calling 319-364-7108 to schedule your next routine checkup with our team today.