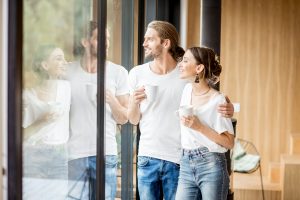 You may not think about your teeth in the same terms that you think about other aspects of your overall health. However, teeth are a vital part of your wellbeing. You need to keep your teeth healthy for the duration of your life — you only get one set! One of the best ways to maintain the integrity of your teeth is through preventive dental care. When you choose preventive dentistry, you address potential problems before they arise. By taking a proactive approach to oral health and avoiding extensive treatments, you can save yourself time and money as well.
Healthy Teeth Maintain the Integrity of Your Smile
The best way to give yourself a beautiful, vibrant-looking smile is by keeping your teeth healthy with regular home care and preventive treatment. Scheduling biannual dentist appointments allows your dentist to closely examine your teeth to determine whether there are any potential problems developing. A thorough cleaning removes plaque and tartar buildup that can be hazardous to the enamel of your teeth. Without regular cleanings, you're likely to develop cavities.
Your Regular Appointments Are the Time for Preventive Care
The other benefit of scheduling biannual appointments is that it gives your dentist a chance to offer preventive care solutions for you. Your dentist may suggest dental sealants, especially for younger patients who need help protecting hard-to-brush teeth. Your dentist can also administer fluoride rinse, great for fortifying enamel. If your dentist notices wear on your teeth, he or she may be able to diagnose bruxism, the grinding of teeth while you sleep. Spotting conditions early on reduces the damage that they can do, and it lowers the cost of treatment significantly.
Cedar Dental Administers Preventive Care to Maintain Smile Integrity
The experts at Cedar Dental want to help you maintain the integrity of your smile for life. The best way to keep your teeth looking and feeling healthy is with preventive treatment. Learn about all of the preventive services available to you at Cedar Dental by talking with our team. Make your appointment for a checkup and cleaning by contacting Cedar Dental in Cedar Rapids, IA at 319-364-7108.