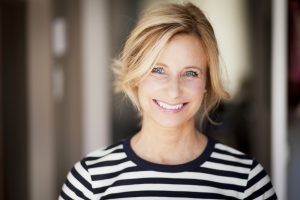 STOP TEETH-GRINDING WITH BRUXISM TREATMENT
Bruxism is the official name of unconscious (and usually harmful) teeth-grinding, and many people suffer from the condition without realizing it. Because grinding most-often occurs while a patient sleeps, detecting it is not always simple. However, Dr. Peter Ruggiero may notice signs of bruxism during your routine checkup and cleaning appointment. If so, then you might require restorative treatment as soon as possible to restore any damage and stop your tendency to grind your teeth.
Repairing the Damages of Bruxism
Bruxism can be caused any one or combination of various factors, such as high levels of stress, an uneven bite, or a problem with your jaw's joints (such as TMJ disorder). In many mild to moderate cases, it can be treated with a custom-designed mouthguard that you wear at night, preventing your teeth from grinding and destroying each other while you sleep. If your teeth have already suffered damage, like excessive wear, chips, or cracks in their surfaces, then Dr. Peter Ruggiero can suggest an appropriate restoration (i.e., a dental crown or porcelain veneers) to rebuild your teeth's full, healthy structure.
Stop Bruxism from Destroying Your Smile
Stop bruxism with a personalized treatment plan, such as a custom oral appliance. To learn more, call Cedar Dental in Cedar Rapids, IA, today at (319) 364-7108. We also welcome patients who live in Mount Vernon, Iowa City, Hiawatha, and all nearby communities.