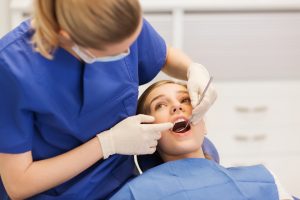 Advances in dentistry make it possible to reverse many forms of damage and infection that plague the mouths of millions of people every year. Indeed, restorative dentistry is incredibly useful when it comes to issues that have gotten out of hand. It is important to remember, however, that an effective preventive routine is what lays the foundation for a strong smile in the first place. In today's blog, your Cedar Rapids, IA dentist discusses the role of an effective preventive dental routine, and how dental checkups are a necessary step of the process.
Completing the Routine
From a young age, adults in your life likely emphasized the importance and necessity of brushing your teeth. For starters, it eliminates bad breath. It also helps keep plaque and tartar from building up around your teeth, thus ensuring their health. Though brushing is a necessary part of a preventive routine, it is only a portion of what your smile requires.
Indeed, all aspects of your oral cavity contribute to your dental health, which means each of these factors must be taken care of. This includes not only your teeth, but your gums, cheeks, tongue, throat, and more. Indeed, brushing only covers a few of these areas, which is why additional treatment is needed to complete your routine.
If you aim to maintain a healthy smile for life, your dentist recommends a healthy balance of brushing and flossing, being cautious of what you eat, and attending your six-month checkups and cleanings. To learn more about this process and how it benefits your grin, reach out to our team today.
Identifying Threats Sooner
While you may believe a checkup is unnecessary, there are actually a handful of benefits that make it essential to healthy teeth. For instance, your routine checkup provides a professional lens at which to assess dental health. Indeed, many concerns such as cavities or infections are extremely difficult to detect with the naked eye during a self-assessment, and a trained eye can help identify them sooner before they develop into major issues.
When you come in for your checkup, we will take care to examine all aspects of your smile and looks for signs of damage, trauma, infection, and more. To learn more about the examination process and protecting your smile, contact our team.
Removing Bacterial Buildup
Another important benefit from a dental examination is the ability to provide a thorough cleaning. You see, plaque develops on your teeth as the day goes on, and sometimes these deposits make their way to difficult-to-reach areas of the mouth.
Without treatment, these deposits calcify and become much more difficult to remove later. Fortunately, we can provide a thorough cleaning once every six months to ensure your smile is taken care of.
Schedule Your Appointment
Contact Cedar Dental in Cedar Rapids, IA by calling 319-364-7108 to learn more about the necessity of routine checkups, or schedule your next appointment with our team today.