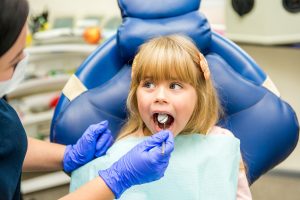 Patient comfort is a crucial part of the care that you receive during your visits to the dentist's office. Of course you want quality care and expertise, but patient comfort creates a positive experience, and the value of a positive experience can't be overstated. This is especially true for younger patients. The experience that your child has at the dentist can affect how they perceive dental visits as adults, and how they take care of their own teeth throughout their lives. Choosing the right dentist for your children can have a long-lasting, positive impact.
Bad Experiences Now Might Mean Dental Anxiety Later
Are you someone who experiences dental anxiety? If you had to trace the roots of this problem, they probably point back to a negative experience that you had when you were younger. Clinical environments and impersonal care can create a real apprehension surrounding the dentist. On the other hand, a welcoming environment with personalized attention can do a wealth of good. Staff members that introduce themselves and actively engage with young patients can create a care experience that encourages children to take care of their teeth and welcome future appointments.
Oral Health Habits Can Be Developed at a Young Age
It's not just children's perceptions of the dentist that are formed during these early visits. Your child can also form oral health habits at a young age. Brushing twice a day, flossing, and looking out for sugary foods are learned habits. If your child's dentist makes it a point to help educate them, they're more likely to develop these strong habits. Oral healthcare habits formed now can last children a lifetime. It's vital that your children begin caring for their oral health at a young age because it can prolong the life of their teeth!
Your Dentist Can Offer Solutions to Help Your Child Care for Their Teeth
Your child's dentist is also an ally in the fight against cavities. Sometimes, genetics and a difficulty brushing can make oral healthcare perilous for your child. Your dentist can offer dental sealants for your child's most vulnerable teeth. Fluoride rinse can repair and strengthen tooth enamel, fortifying your child's teeth against cavities. These type of oral solutions are part of your child's normal checkups and cleanings at the dentist's office. You just have to be sure to schedule the appointments.
Schedule Your Child's Dentist Appointment at Cedar Dental
For quality care in a welcoming environment, visit Cedar Dental. The friendly staff can offer professional solutions, individualized attention, and thorough education to help your child care for their teeth for a lifetime. To schedule a checkup and cleaning for your child at Cedar Dental, contact the Cedar Rapids, IA office at 319-364-7108.