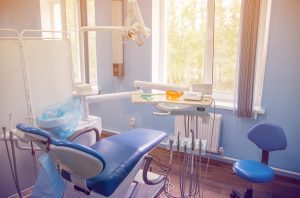 Quality dental care consists of attentive, individualized treatment using contemporary technology. You want your dentist to provide expertise and knowledge, but the environment in which you receive your dental care also matters. Cold, sterile environments can feel intimidating and unwelcoming. This can create angst for dental patients that makes them less likely to return. That's especially damaging for younger patients, who can develop a long-term phobia of the dentist after bad experiences as a child. So, what kind of environment does your dentist create?
The Environment at Your Dentist's Office Is a Product of the Office Itself
The core factor that determines the type of care environment that you experience at your dentist's office is the office itself. If the office feels clinical — like a medical institution — you may not exactly feel welcome inside. An impersonal interior doesn't bother everyone, but if you're prone to dental anxiety, it certainly doesn't help. As children are forming their opinions of dentists and dental visits, a warm, inviting environment can make them feel welcome and relaxed during visits. If your child actually likes visiting the dentist, they'll be more likely to do so as adults.
The Care Environment at Your Dentist's Office Is Also a Product of the People
Of course, an environment isn't made up solely of space. The environment of your dentist's office is also determined by the staff who work there. A friendly attitude from staff members makes each patient feel welcome. Additionally, a staff that gets to know each patient can better understand the needs of each patient. If your dentist is taking time to get to know you and your family members, then you'll feel more comfortable asking questions and bringing up potential issues that you've noticed with your teeth.
An Educational Approach to Oral Care Helps Everyone
Your approach to oral health is the biggest determining factor in the long-term health of your teeth. If you understand how to properly care for your teeth and why doing so is important, you're more likely to follow through with brushing, flossing, and visiting the dentist. That's exactly what your dentist wants you to do, so they should be encouraging you with educational components during your visit. Your dentist can address any questions you have about your teeth and gums, and offer help learning proper cleaning technique.
Experience a Friendly Care Environment at Cedar Dental
At Cedar Dental, we understand how important the care environment at our office is. We want to create a space that is welcoming and education-focused. By getting to know each patient, we learn how to provide the best care possible for each member of your family. Schedule an appointment at Cedar Dental in Cedar Rapids, IA by calling our office at 319-364-7108.