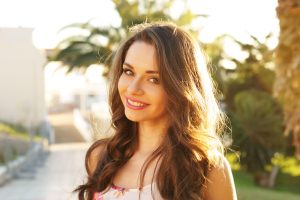 WHY TEETH WHITENING SHOULD BE PROFESSIONAL
As the only dental treatment that can be purchased over the counter and applied without professional direction, teeth whitening remains the most frequently-used cosmetic dental enhancement. However, despite the ease and convenience of store-bought products, professional teeth whitening is the only method that can successfully erase the most common stains and dramatically brighten your teeth. Using a professional-strength bleaching agent and a set of custom-designed trays that fit over your teeth, our take-home kits are highly effective, and can be applied in the comfort of your own home.
Alternatives to Teeth Whitening
For some patients, even professional teeth whitening may not suffice, particularly if their teeth stains are intrinsic (develop from within the tooth) or are indicative of tooth damage or infection.
If an examination reveals that your tooth blemishes are too stubborn for teeth whitening, then Dr. Peter Ruggiero can recommend a more appropriate cosmetic solution, such as tooth bonding or porcelain veneers. If tooth damage or tooth infection is present, then you may benefit more from a tooth-colored filling, root canal therapy, and/or a porcelain dental crown (depending on the severity of your condition).
Enjoy a Brighter Smile with Teeth Whitening
If your smile could stand to be a few shades brighter, then schedule a teeth whitening appointment by calling Cedar Dental in Cedar Rapids, IA, today at (319) 364-7108. We also welcome patients who live in Mount Vernon, Iowa City, Hiawatha, and all nearby communities.