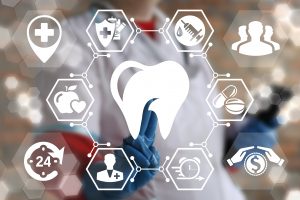 The dental industry is full of different terms and procedures for different care situations. If you haven't experienced the need for restorative dentistry before, you may not be familiar with all of the different terms you'll hear surrounding treatment. Restorative dentistry, in general, seeks to repair teeth that have suffered physical damage or bacterial infection. The goal is to give patients the confidence in their smile and tooth structure that they had before the damage. If your tooth needs repair, your dentist may recommend a dental inlay or onlay. It's time to learn more about these industry terms.
Dental Inlays and Onlays Are Related to Dental Crowns
To better explain what dental inlays and onlays are and what they do, you should familiarize yourself with dental crowns. Many cavities can be treated with dental fillings. These procedures are simple, and often completed in a single visit. If your tooth has suffered damage that extends beyond a simple cavity, you may need a dental crown. Dental crowns are fabricated to look like natural teeth and fit over the top of your damaged tooth. A crown can be used to protect a cracked tooth, a tooth that needs root canal therapy, or a tooth that has simply suffered a cavity too large for a filling.
Dental Inlays and Onlays Are Also Known as Partial Crowns
Your tooth may need fortification after suffering physical damage or infection, but the damage may not warrant a full dental crown. Instead, your dentist can fabricate a dental inlay. An inlay fits inside the chewing surface of a molar, restoring volume and protecting vulnerable parts of the tooth. A dental onlay extends over the side of your tooth to achieve the same effect. In both cases, the partial dental crown is put in place to add extra fortification to a tooth that may be at risk for serious damage because of previous infection.
Do You Have Hesitations About Seeking Treatment for Your Teeth?
In any case where restorative dentistry is necessary, your dentist can prescribe the correct treatment for you. That's why it is so important to reach out to your dentist and begin the treatment process. Your dentist will recommend the proper care to restore your smile and the health of your teeth based on your situation. If you have reservations about visiting the dentist because of poor experiences in the past, it's time to find a dentist that provides a welcoming care environment.
Cedar Dental Provides Custom Tooth Restoration
The team at Cedar Dental knows that not everyone enjoys visits to the dentist's office. The Cedar team provides custom care in a welcoming environment centered around patient comfort. You'll be able to get answers to your questions and feel good about the status of your treatment. Schedule an initial consultation by contacting Cedar Dental in Cedar Rapids, IA at 319-364-7108.