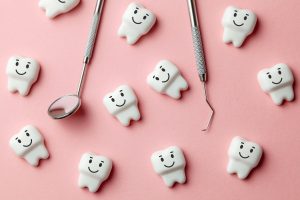 If you want a beautiful, bright, straight smile, cosmetic dentistry can be a huge help. Simple cosmetic treatments can give you the smile you've always dreamed of, but you need to make sure that your teeth are ready first. Your teeth need to be healthy before they can receive cosmetic treatment. All of the whitening and contouring in the world won't help if you're suffering from cavities and decay. Talk to your dentist about the health of your teeth and what restorative treatments you might need to get them ready for a cosmetic upgrade.
Restorative Dental Treatment Can Prepare You for Cosmetic Treatment
Before you move forward with a cosmetic treatment plan, you need to get your teeth in good shape. If you're dealing with cavities, gum disease, or infection inside one of your teeth, you'll need to resolve that issue before your dentist can move forward with your plan. Restorative dental treatments like dental fillings can repair cavities and heal your teeth. Dental crowns can aid teeth that need root canal therapy, and crowns also provide cosmetic help! If you work with your dentist, you can create a restorative treatment plan that keeps your cosmetic goals in mind.
You Have Excellent Cosmetic Options for Your Healthy Teeth
Once your teeth are healthy enough for cosmetic treatment, you have plenty of options to help give you the smile you want. At-home teeth whitening through your dentist gives you access to professional-grade whitening that can have incredible results. This is a great way to give yourself the bright smile you've always wanted. Dental bonding and contouring can gently adjust your dental enamel to give you a more even, proportional smile. Dental veneers can give you a straight smile that is also brighter. Whatever your cosmetic goals, there's a treatment that can help.
Teeth Whitening Can Be Completed at Home
Professional teeth whitening is a great cosmetic treatment because the entire process can be completed at home, on your own time. Your dentist will fit you for some custom whitening trays that fit your teeth. You'll apply a small amount of bleaching agent inside the trays and then wear them for a short time each day. In just a few weeks time, you're likely to notice a huge difference in the appearance of your smile. Again, you need to make sure your teeth are healthy before you move forward with this treatment.
Cedar Dental Provides Restorative and Cosmetic Treatment
Whether you're ready to move forward with cosmetic treatment right away, or your teeth need some help beforehand, Cedar Dental can help. Work with our team and we'll create a comprehensive plan to have your teeth looking and feeling their best. You can schedule an initial consultation by contacting Cedar Dental in Cedar Rapids, IA at 319-364-7108.