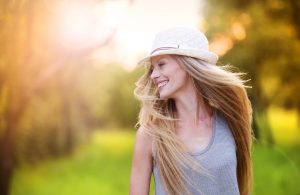 It's too often that we don't get what we want or need because we're worried about the hassle. Inconvenience can prevent you from living your best life. This is a common theme when it comes to cosmetic dentistry. Patients are often worried about undertaking a significant procedure and scheduling multiple appointments. Everyone has a busy schedule, so shifting things around again and again is far from ideal. However, there is a cosmetic solution that eliminates hassle from the process. You can have the bright, beautiful smile you want, without added stress. Professional teeth whitening is a cosmetic fix that can benefit you right away.
Professional Teeth Whitening Doesn't Involve a Permanent Change Like Veneers
Porcelain veneers are an attractive cosmetic option for many people because they can correct for misshapenness, color, and size, all in one fix. However, in order to receive porcelain veneers, your dentist must lightly shape your teeth and bond the veneers to their surfaces. This represents a more permanent change than some patients are comfortable with. A professional teeth whitening treatment can brighten your smile right away without any surgical procedure. That means you don't have to make any significant alterations to your existing teeth to enjoy the cosmetic benefit.
Professional Teeth Whitening Covers a Wide Range of Cosmetic Blemishes
Professional teeth whitening is such a popular cosmetic option because it can cover up and adjust such a wide number of cosmetic blemishes. If you've got staining or discoloration on your teeth, a professional whitening can correct this condition. What you eat and drink will naturally cause your teeth to fade from white over time. However, it's not the end of your opportunity to enjoy a perfect smile. Everyone deserves to feel good about their smile. Now, you don't have to worry about hassle to do so.
Learn More About Snap-On Smile from The Austin Dentist
Cedar Dental is your home for cosmetic dentistry treatment that comes without hassle. You don't have to let cosmetic blemishes hold you back from feeling good about your smile. Great options like professional teeth whitening are affordable and easy to use. Schedule an appointment for a cosmetic dentistry consultation with Cedar Dental in Cedar Rapids, IA by contacting the office at 319-364-7108.