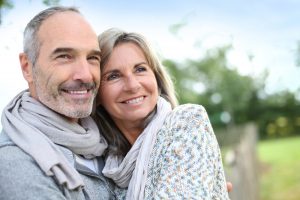 HOW DENTAL IMPLANTS REBUILD SMILES
Unlike dental bridges and dentures, dental implants are placed underneath your gum line, and are held steady by the mass of your jawbone. Crafted from biocompatible titanium, the small, root-like posts are surgically inserted, and as you heal, your jawbone fuses to their surfaces. Once they've become a part of your oral anatomy, dental implants can support nearly any type of prosthesis, including dental crowns for single tooth replacement, and partial or complete dentures for more severe cases.
Dental Implants + Dental Prostheses
When you lose a single tooth, then replacing it with a dental bridge would require modifying the teeth around it to support the prosthesis. By contrast, a dental implant can be inserted into the empty area of the jawbone, and then topped with a lifelike dental crown to create a replica of your lost tooth.
If your tooth loss is more complex, then a series of dental implants may be placed to support a partial denture and one or more crowns, as necessary. Patients with few or no teeth remaining on their dental ridge may find a solution in an implant-supported denture, which will rest on as few as four strategically-placed implants, rather than one implant per lost tooth.
Rebuild Your Smile Completely with Dental Implants
Only dental implants offer the complete smile restoration benefits of replacing lost teeth roots. To find out if you qualify, call Cedar Dental in Cedar Rapids, IA, today at (319) 364-7108. We also welcome patients who live in Mount Vernon, Iowa City, Hiawatha, and all nearby communities.